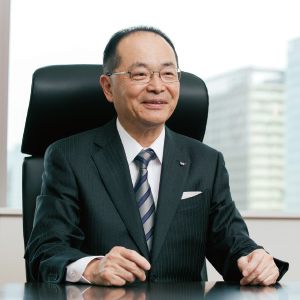 NIPPON ACCESS, INC.
President
Junichi Sasaki
To become a top wholesale company in its "business scale, function and profit"
"Preserve, connect and create" the "taste that touches your heart."
This is the concept that NIPPON ACCESS cherishes and what we have in mind as we strive to become a general wholesale company, capable of achieving constant growth.

Digital business leveraging AI, IoT and other innovative technologies of the Fourth Industrial Revolution has proliferated throughout all industries. The distribution industry, meanwhile, is seen as one oriented toward a business environment. With the forthcoming new wave of technology, our challenge will be to define the kind of service and functions we should provide. Under such circumstances, we will establish a new next-generation business, with the growing Internet environment in mind and extend our "B to B" business area to "B to B to C" to enhance our service functions.

NIPPON ACCESS saw its 25th anniversary last year and will now embark on a new chapter toward the seventh mid-term management plan "NEW ACCESS WAY 2020 – Evolution and Creation –". Crystallizing the procurement, proposal and development expertise we have refined in the course of our 25-year footsteps, we will provide diverse services as a full-line wholesaler and evolve to become a top food wholesaler in terms of scale, function and profit. We are also spearheading diversity and work-style reform and boosting our productivity by enhancing our business efficiency. As each employee further "evolves", we strive to adapt to an ever-changing external environment and "create" new values that pave the way for the future of humans and food.