Mart New Product Grand Prix
This is a sales promotion project that tie up with living information magazine "Mart." At the exhibition we hold biannually, 100 Mart members sample a taste of all entered products and vote testing all elements of price, taste, quantity, packaging, and the ease of use. Ranking results are published on Mart. With trend-sensitive Mart members' consumer perspective, we will dig into discovering the next hot seller, and we propose creating a sales department that make good use of consumer feedback.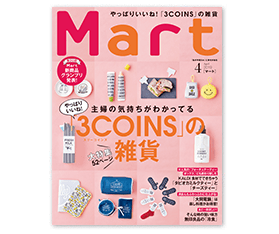 Mart is a living information magazine with about 130,000 issues in circulation (October 2004 inaugural issue, Kobunsha Publishing Company Co., Ltd.) that targets housewives in their 20s to 40s who are busy with work and parenting. It provise full of ideas and information to make their good life. As of now, there are about 23,000 member readers, and those who are good at arranging products with their unique ideas or at presenting their lifestyles nicely.

Buyer's Grand Prix
We decide rankings of the entree product which is the same as the ones in Mart new product grand prix by asking the buyers who visit to try each food. You can compare "consumer perspective rankings" by Mart members and "professional perspective rankings" by the buyers. The result of the rankings will be published on 2 magazines which are "DIAMOND Chain Store" which is a logistics information magazine and on "Nikkei Trendy" which is a trend information magazine.
"DIAMOND Chain Store"

Since first published in 1970, Diamond Chain Store widely provides information as a logistics specialized magazine to contribute to the development of Japanese logistics industry. Delivering multi-dimensional explanatory articles that take a bird-eyes viewpoint of the industry, this magazine can be widely read by people including managers and directors.

Nikkei Trendy

"Nikkei Trendy" which is a trend information magazine that inspires personal lives, continues to pursue consumer trend in Japan with annually December published issue "Hit Merchandise Rankings 30 & Hit Predictions 100 Features" as a core.