Frozen Award
Frozen Food & Ice cream Consumer Campaign
To revitalize and promote sales in the frozen food and ice cream sales department, we hold ice cream and frozen food consumer campaigns since 2013. Under the sponsorship of main frozen food manufacturers and ice cream manufacturers, we determine the ranking of nominated products through the consumer's web votes. Also this time, we will concurrently hold a closed campaign "Eat Ice cream & Frozen Foods and Support Campaign" in which you can win a prize from selected merchandises purchases to support sales.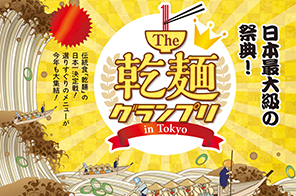 The Dried Noodles Grand Prix
As we aim for wide range of age groups to learn the deliciousness and the rich variety of udon, soba, and somen that are unique to Japan born from nationwide unique climate and cultures, we would like to widely enlighten through this event the good characteristics of "dried noodles"traditional Japanese food. At the site we sell menus that utilize countrywide locally produced dried noodles (soba, udon, and somen) and carry out a grand prix from visitor votes and also hold other various events.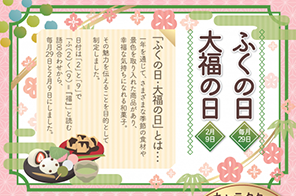 Japanese sweets sales promotion"Fuku-Day"plan.
On the 29th of every month is "Fuku-Day" and Februaty 9th every year is "Daifuku Day." NIPPON ACCESS applied to Japan Anniversary Association and was approved that as of April 2017 above anniversary date to be enacted. We aim to revitalize the sales department of Japanese confectioneries by carrying out a sales promotion in accordance with the anniversary.